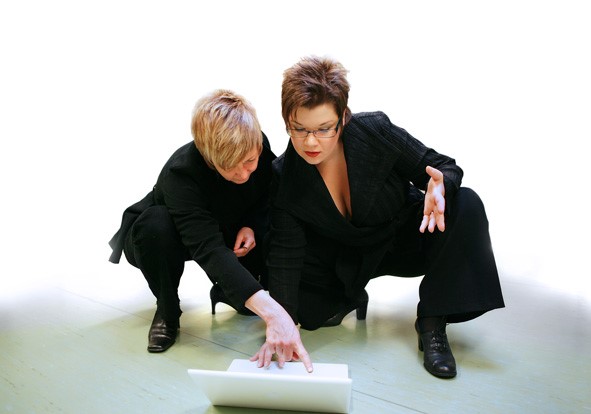 Concept, choreography, performance: Johanna Tuukkanen & Jaana Klevering
Sound design: Jaap Klevering
Texts: Judith Butler, Tony Dunderfelt, Jaana Klevering and Johanna Tuukkanen
Clothes: Skadi, Vanhan Pappilan Pellavapuoti and the personal clothing archive of the artists
Photographs: Pekka Mäkinen
Supported by: Regional Dance Centre Kuopio, North Savo Arts Council and Arts Council of Finland (danceboard)
Thanks to: Eva Turunen for sponsoring Gunilla Ponten and Kläd i Konst clothes, Savonia polytechnics/Eeri Mäki-Tähkänen and Kirsi Lipponen, Vilja Ruokolainen/Regional Dance Centre Kuopio, Zodiak.
Performances:
March 15th 2007 at 7 pm
March 16th 2007 at 7 pm
March 17th 2007 at 5 pm and 7 pm
Place: Gallery Carree, Kauppakatu 13, Kuopio, Finland, www.carree.fi
Reservations: johanna@tuukkanen.net or gsm +358 40 742 9091.
Performance in Joensuu March 28th 2007 at 7 pm
Place: Art Centre Ahjo, Kirkkokatu 23, Joensuu
Performances in Helsinki May 16th to 20th 2007 in Z in Motion -festival. See exact programme from April on www.zodiak.fi.
Performances in Paikallisliike 07 –festival in Kuopio, Finland June 16th 2007 at 1 pm and 3 pm. See further information www.paikallisliike.net.