"You could have heard a pin drop. There wasn't one person, male, female, old or young, in the audience, who didn't hold her breath. Sophisticated or not, but Milk sure hit home."
(Katja Werner, Dance Europe #89)


Physical artistic deeds; Milk is an excitingly funny and witty dance performance commenting on the everyday routines which Johanna Tuukkanen has documented and written down over the past two years. The term series of actions that matter has been the starting point for a thought of larger meanings deriving from the continuation of certain deeds. Physical artistic deeds 1, premiered in 2004, is based on milk and is an attempt of Johanna Tuukkanen to bring up some concepts of time, place, momentarity and everyday life.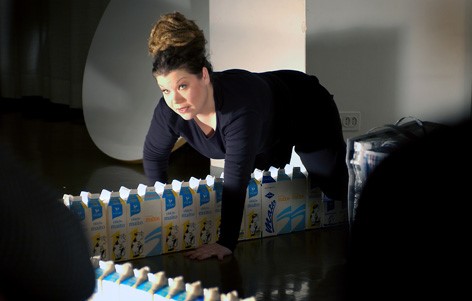 Concept and performance: Johanna Tuukkanen
Music: Kitkerät neitsyet, Eija Ahvo
Duration: 40 min
Premiered on May 13th 2004 at the Centre on Marginal arts in Joensuu. Also performed in Kuopio, Full Moon Dance Festival in Pyhäjärvi and Lonely in the Rain -festival in Joensuu, Finland.
On tour: 1 person
"Tuukkanen's Milk a performative and intelligent work."
(Sirpa Heikkinen, Kaleva 11.8.2005)
"This work performed previously in galleries, worked excellently in the theatre space in Pyhäjärvi. This work structured from simple elements is sharply provocative and political. Tuukkanen raises a huge landscpe of thoughts by actions and sentences related to milk and its consumption which radiate widely to the relationships between human beings and our society."
(Piia Ahonen, Finnish Dance magazine 03-2005)
"Tuukkanen's imagery is so open to embrace a multitude of dormant (vindictive?) female fantasies. Here they are. Hundreds of mad cows, a chorus line to make you dizzy. A fortress for the healthy family, the picture of domestic glee. Yet, if the dairy battalion reflects an Astrid Lindgren kind of northern harmony; Tuukkanen is Pippi's enraged evolution towards Valie Export via Witches of Eastwick."
(Katja Werner, Dance Europe #89)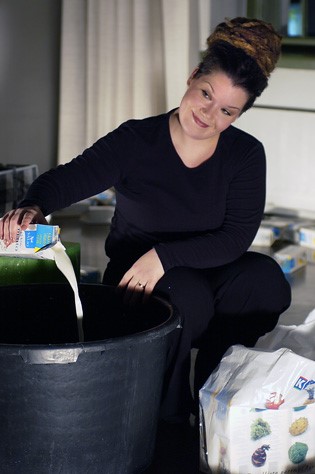 "Johanna Tuukkanen is one of the very few Finnish dance makers who work in a conceptual direction. Combining live art, performance art, and (gracefully to blatantly irreverent) movement to sketch, as a cartoonist would, the predicaments of everyday routine."
(Katja Werner, Dance Europe #89)
Photos: Pekka Mäkinen