Hectic weeks and days! I will be in residency in Australia for a month and have so much work and all kinds of stuff to complete before I travel! Starting from various ANTI Festival related things to tax papers, my son's graduation party, research stuff, grant applications…and what does one need to pack for Melbourne in April-May??? C'mon! I don't have anything to wear…
So over the Easter, I've been working on mine and Live Umbrella's tax papers, doing laundry, packing winter clothes away and trying to find summer clothes from storage. And since my son's graduation is in the end of May and I'm going to be away for a month right before (good timing!), we've been cleaning the house, planning the party from making guest lists to planning the menu and making checklists of what we need to buy, borrow and rent! Sounds like a huge party but really is not – but still there's a lot to do.
Our Yorkie Pimu has probably an infection in her eyes so I'm taking her to vet on Wednesday…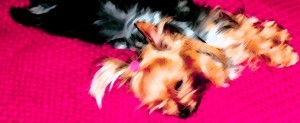 Pimu photographed by Pekka.
But I've enjoyed the days as well; being with the whole family, weather has been really nice & I've made some nice kale drinks, smoothies and cocktails…


Johanna