object marriage.
You do not need marriage to live a happy life, to be in a relationship, to commit, to have children or to nourish love. In fact, it's an institution that discriminates people and increases inequality in society.
In Finland, for example, same sex couples can register their relationship but not marry. People living in a registered relationship do not have the same rights or duties as the people who are married. Registered couples do not have the right to adopt a child together, and it's been possible only since 2009 to adopt within the family. Also, registered couples cannot take a common last name. These are just few examples, how same sex couples are not in an equal position in the Finnish law and one Finnish politician Oras Tynkkynen has written that it can be compared to a situation where we would have separate partnership laws for the Roma people, for Swedish speaking Finns or for different ethnic groups. Tynkkynen also points out that the current Finnish law leaves some sexual minorities in an inequal position, for example if you don't identify as male or female.
But marriage does not only discriminate on the basis of gender. It is humiliating that all sorts of forms in Finland require you to state whether you are single, married, divorced, in a registered relationship or in common-law marriage. In all kinds of everyday situations you are treated differently and inequally, social benefits vary on the basis of marital status, couples who own something together but are not married do not inherit each other without special and often expensive special legal arrangements and so on and so on. And sadly, marital status does not have an impact only on your social benefits but in some cases also on your children's benefits.
So all this, I cannot accept and I do not support.
This is Annie's and Beth's 15th wedding and of course I, like everyone else here, see and feel the love they have for each other, for Kallavesi, the Earth and for all of us. My friend Anniina who just got married this year, would argue that we need social rituals and gatherings where people publically declare their love and commitment to each other. This is probably true but instead of marriage, I would like to think that maybe we can imagine something new, something else and create something that spiritually unites and celebrates all forms of relationships and all kinds of bodies.
Like Barbara Carrellas wrote in Reasons "WHY MARRIAGE SHOULD BE ABOLISHED!!!", I agree that the elimination of marriage would help create a fairer, more just society.
This was my wedding objection at the Blue Wedding to Lake Kallavesi by Annie Sprinkle & Beth Stephens on September 30th 2012.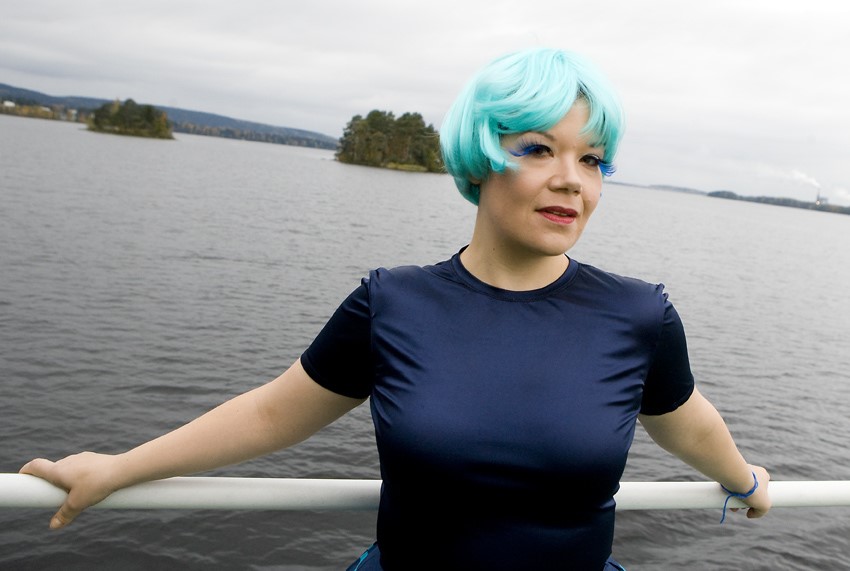 This photo by Pekka Mäkinen was taken at the wedding which took place on Queen R on Lake Kallavesi in Kuopio.
Johanna